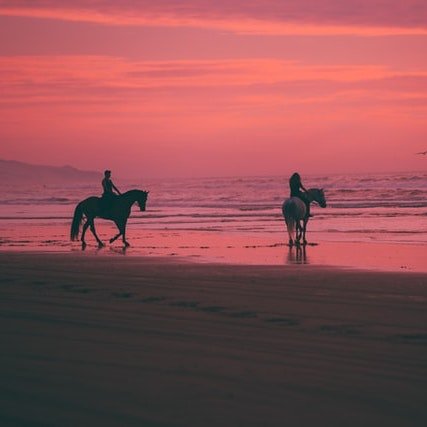 Horseback Riding Tour to the Nauyaca waterfalls
The horseback riding tour is over a 12 kilometer route with three resting periods, passing by Don Lulo's house, where you will have a delicious and typical Costa Rican breakfast and later on the day a well-earned lunch. There you will also find a mini-zoo. At the waterfalls it is possible to swim in the natural pools the waterfalls have formed, or try to climb up the waterfall and jump off.
There is no riding experience required for this tour. The horses are trained to follow the leader and have calm personalities.
Duration: 6 – 7 hours
Times: Monday – Saturday 8 a.m.
What to wear: Long trousers, closed toed shoes, bathing suit
What to bring: Sun block, insect repellent, water, towel, camera
Horseback Riding At The Beach
Rancho La Merced National Wildlife Refuge has an area of 1250 acres, which is comprised of a reserve with both primary and secondary tropical rainforests as well as pastureland, mangrove estuary, riverfront on the Morete River, and the beach. The several kilometers of hiking and horse trails available offer a wide variety of environments to explore.
An experienced guide takes you through the fields of the Wildlife Refuge where you pass the ranch and ride through a herd of Costa Rican cows. You even might see a black vulture in the top of a tree enjoying the sun with its wings spread out. After that, you will ride through a small tropical forest, cross a creek and end up on the beach: Playa Hermosa. A beach tour by sunset is also possible but only when it is low tide. The tides schedule is available at the Oxygen reception.
The horses that are being used for the tours are carefully trained and suitable for both experienced and inexperienced riders. Experienced riders can gallop on the beach but not for as long as you might be used to in colder countries. Here in Costa Rica it is very warm, and the health of the horses is very important.
Duration: 2 – 4 hours
Times: In between 8 and 9 am is the best time to start the tour
What to wear: Long trousers, closed-toed shoes
What to bring: Sun block, insect repellent, water, camera
Our Price Match Guarantee
We promise you won't get a better deal anywhere else.
Send us a link and we'll match it.
reception@oxygenjunglevillas.com